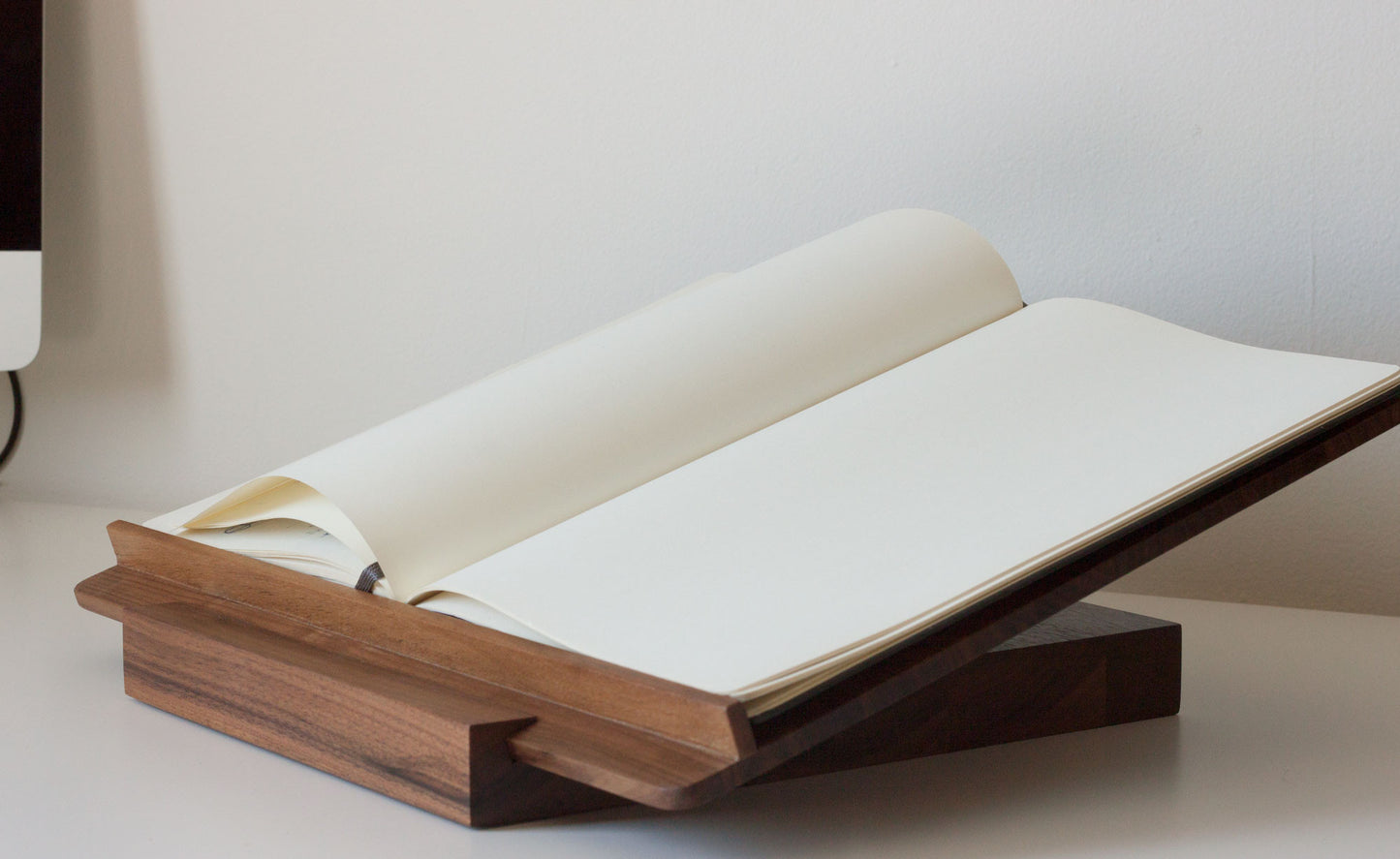 I figured it would be fun to share with you guys a small project we recently did for a customer. Anna contacted us via our web site and asked if we could do some custom design for an object she wanted to give to her husband for his birthday. She had been looking for a bookstand he could use when studying and she had found some old school models over the web but she wanted something…let's say more modern!
So we started by trying out a few things, mainly over sketches. Here's some of them. I actually drew 2-3 times more. I usually don't sketch that much. I basically sketch to put on paper what I have in my head, not to render something pretty. In my opinion, and some designers would completely disagree, the important thing with sketches it to express an idea, wether for discussing them with colleagues or because it helps clarifying simple mechanics, assembly or principles.
Even though Anna had not request the bookstand to be adjustable, I thought that it would be better if it could at least be used in two positions. The reasons for this are that, although it is first and foremost used for studying, it doesn't mean it is not going to serve for other means, like following recipes or simply typing on a computer some text from a book. All these things require different angles. Second, this thing was going to be quite big. The customer asked that it had 17″ wide by 12″ deep for the supporting surface. What do you do with such an object when you don't use it? It better be stored flat if you want to save some space. So having it adjustable could also mean that it could flattens itself, if I may say so, to be stored. Or maybe it could be taken apart easily?
After playing with more mechanical ideas (which I didn't like – they were too complicated and were getting farther away from the simple and clean look I was look for), I settled on the idea which seemed the more obvious: this thing could well use the same principle as our iPad stand. We would replace the iPad by a wooden board to support the book et voilà!
I came back to Anna with two propositions: One was the idea which I described before, adjustable by using a block with notches like our iPad stand, the second was a simpler fixed version which was a bit more clean looking, or so I thought, but not as much practical as the adjustable model. Anna chose the adjustable model, and I'm quite happy she did. We also proposed to include a third notch to offer a straighter angle for a kitchen book, an idea she agreed on.  Now, the thing I like about that, is that if her and her husband want to use it as a charging station for their devices, they can. They can also use it as a regular iPad stand, although the angles aren't the same as the regular, smaller model. I think it is great they have more than they asked for without adding a lot of bells and whistles to the design and that we could offer them a more modern take on a traditional object.  Oh, and did I mention that they could store it in a book shelf? The wooden board is removable and can be placed flat on the supporting block.
Just to continue to pass through the design process, here are the renderings that were sent to Anna, showing the two concepts. Depending on the nature of the custom project, we won't always do renderings (when modifying a standard product for instance). But for something like this, it's the best way for us to validate the proportions and the design in general and for the customer, it is the best tool so show them our propositions.
Afterwards, we made a prototype, just to validate the support and the stability of the unit. Plus, we had to figure how to cut the notches at such a low angle (they're lower than our regular iPad stand) which requires different tools and manipulations. Keep in mind this is a very rough prototype. We often build those kind of test to verify certain parameters. Here, what counts is not if it is well finished or pretty but does it do what we want it to do. When we produce small objects like this, it is feasible to prototype it. In a perfect world, we would always prototype a custom product. It allows us to feel for ourselves the proportions and the balance between the volumes. It's also the only way to test a movement, a mechanical function and so on (we could do it in CAD but in wood working, it's often quicker to build a quick mockup). In the real world though, some objects are too expensive to build on a prototype level. Take a bed or a table for instance. Plus, we already know how the different bits and pieces of such objects work together.
Once we were confident that this was going to works well, Jean started the fabrication. Here are a couple of pics. As they say, you can never have to many clamps. Never!
In the second picture, you can well see the angles of the notches. What I also like about the last two pictures is that, if you compare them to the following images of the finished product, it really shows the tremendous difference before and after oiling. Especially in the case of black walnut, oil brings the grain of the wood alive. I must confess that we put three coats of oil on every product we do and sand them in between each coat with a lot of love. That helps getting the most out of the wood!
And here it is. A custom bookstand. If you're wondering, apparently the real name of this object is a table top shtender. I'm not kidding! The hole process, from the moment Anna contacted us to the reception of the product took about three weeks. We're quite happy with the product. I think we might modify it to make it a standard product. We'll see! Thanks for reading!

*EDIT: The adjustable bookstand is now a standard Us & Coutume sproduct: you can find it here.
---
← Older post Newer post →