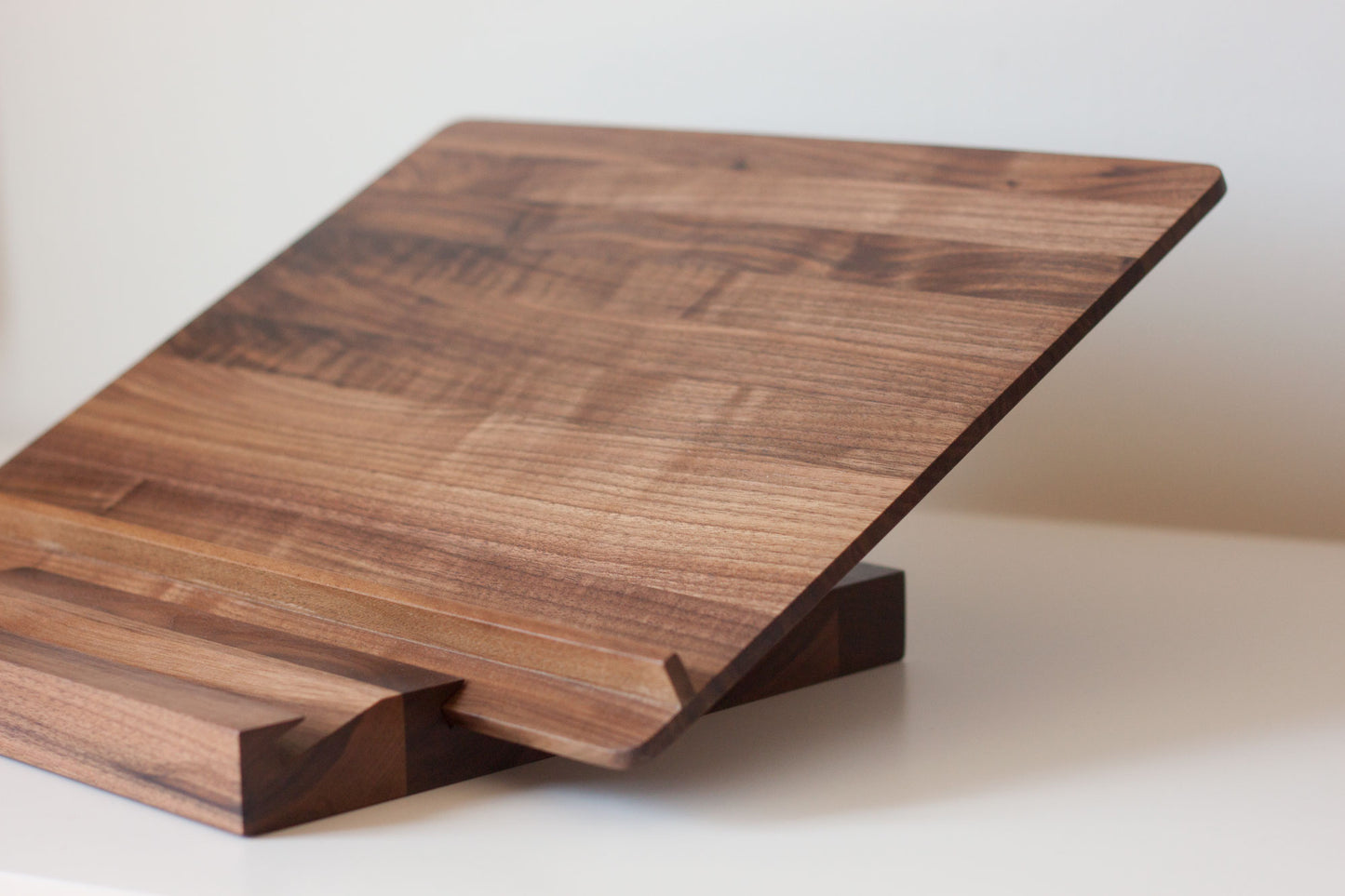 Preparing a nice little dish by following a recipe from your favourite cookbook can often be a puzzle. You don't know where to put the book due to a lack of space, and the open pages close or end up becoming unreadable due to food stains.
With a cookbook stand, cooking becomes easier. And since there's a wide variety of stand models specially designed for cooking, every chef is sure to find one that suits them.
The basic model in silver-plated metal
For those who like refined style, the silver-plated cookbook holder, with its clean lines, is an obvious choice. Practical, it offers an elegant solution for placing your cookbooks and can be tilted to make the instructions more readable. Sturdy thanks to its stainless-steel construction, it remains stable and doesn't wear out over time.
Compact, it fits into a small corner of the workspace and is just waiting to receive a book to begin its work. Discreet, it blends in well with all styles of kitchen furniture.
The bamboo cookbook stand
Another great classic: the cookbook stand made from high-quality bamboo. Sturdy and resistant to any challenge, it can easily be manipulated thanks to its tiltable shelf in order to offer the cook who's working in the kitchen a perfect viewing angle of the cooking instructions to follow.
Totally foldable, it can leave the workspace once the cooking is done and be stored in a cupboard until its next mission. Its spring clamp lets it support even the thickest cookbooks without any issues.
The modern cookbook stand
Cooks with contemporary tastes will prefer a modern cookbook stand with a sturdy metal plate that lets them place their large cookbooks. A whimsical touch is provided by the cut-out letters that announce the colour with the expression "Cooking" or "Cookbook," and the metal is painted red or black, depending on your choice. This type of holder combines strength and practicality with its shelf that's tiltable on several levels and its total foldability when the time comes to store it.
The retro-style cookbook stand
In a different style, cookbook stand models in white-painted metal provide a touch of lightness and a romantic note to the kitchen. These holders find their place on the work surface and blend in with the décor immediately. But don't be fooled by their refined look: they're sturdy, and since their size is well-proportioned, they can support even the largest recipe books. From the appetizer to the dessert, these retro cookbook stands accompany cooks throughout their meal preparation.
The versatile stand
While many recipes are found in traditional cookbooks, many are also available in e-book format or on websites. With this versatile stand capable of safely receiving recipe books such as cooking magazines or tablets, no cook will have any excuse not to try out new dishes. Sleek and practical with its glass support, this model can be cleaned with a simple wipe of the sponge.
Whether it's a personal investment or a gift, a cookbook stand is a handy tool for fans of the culinary arts and an accessory that's quickly becoming indispensable in the kitchens of both professional chefs and cooking enthusiasts.
The Us & Coutumes version
The
Us & Coutumes adjustable cookbook stand
offers a chic and refined aesthetic, as well as a practical three-angle adjustment for maximum reading comfort. It's available in three types of wood, for maximum personality.
---
← Older post Newer post →