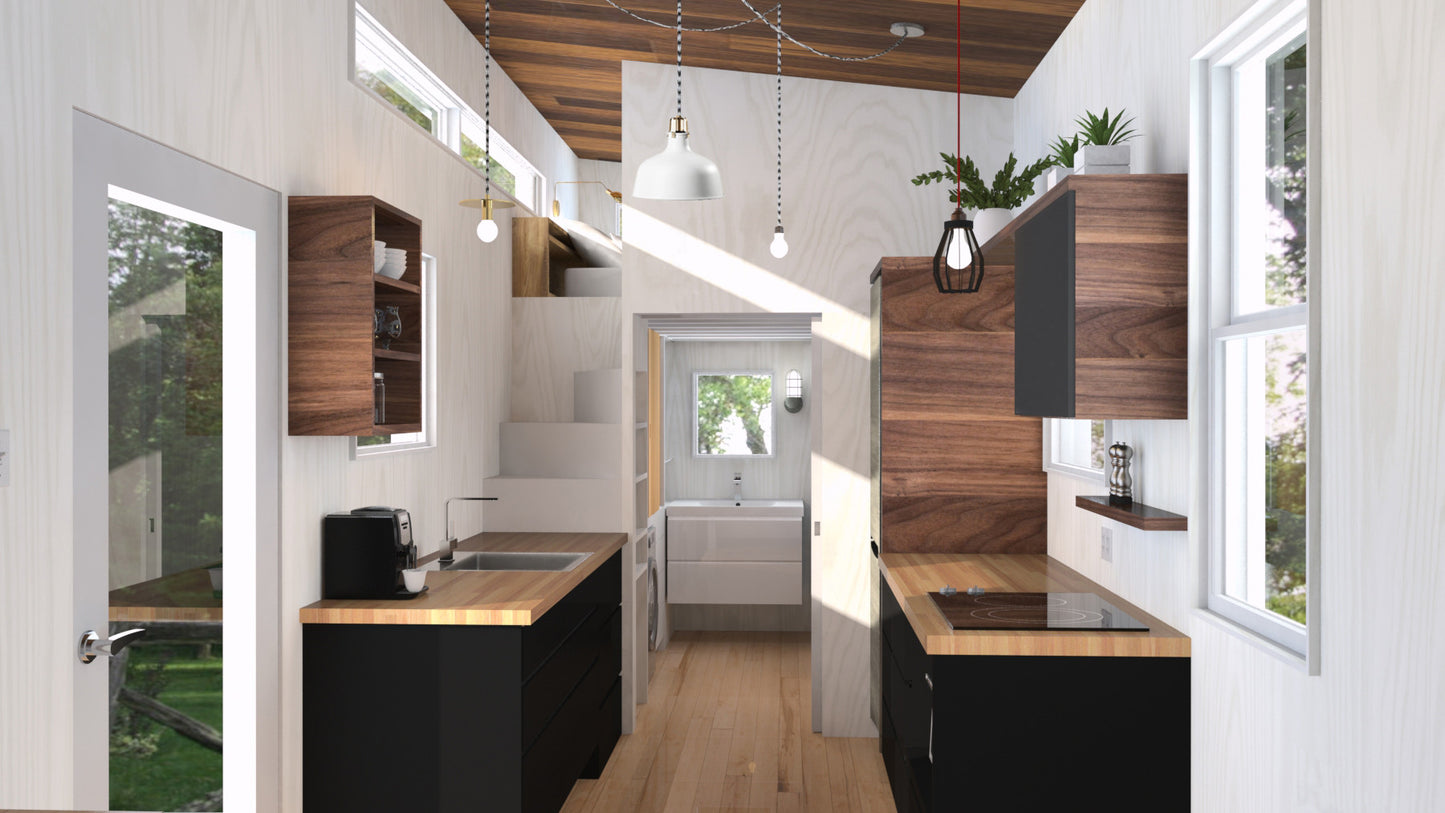 For this very first post on Us & Coutumes blog, I'd like to write about small spaces. Real small. I'm referring to the Tiny houses movement.

You might have heard about it or saw something about micro homes on TV. Tiny houses are, by definition, less than 400 square feet homes (sometimes even close to 100 sq. ft.!) and therefore frequently built by their owners as it makes for an easier project to tackle than building a regular home. We're starting to see interest from the general public pick up and even some promoters are jumping into the bandwagon to offer prebuilt tiny houses.
In the United-States, a couple of web sites are dedicated to the matter already and mass media, architects and the construction industry are well aware of micro homes. In Canada though, the media only started to talk about it in the past year. Does it looks like it's here to stay? Is it a short term trend that's going to vanish quickly? We'll see. And although living in less than 400 sq. ft. seems extreme (after all, it's the same as living in a fifth wheel all year long, isn't it?), I wouldn't call it a fad yet. Here's why.
– 33% to 50% of the gross income of American families is dedicated to pay their mortgage and we're not counting taxes, heating, renos, etc.*
– 76% of Americans are living paycheck to paycheck*
– In March 2015, CBC was reporting that for 1$ of income, Canadians had 1,63$ in debt (here's the article – in french only).
* Theses statistics come from this excellent website on the topic of tiny houses: http://thetinylife.com. I recommend that you check it out if you want to investigate further into the Tiny Houses movement. It is very well designed and full of tips on how to plan and build your tiny house.
So yeah, you saw me coming right? Financial reasons seems the main point people get interested into the idea of living in very small. After all, you can build yourself a tiny home for 35-40000$, even less, as we'll see later. Now, does it get any better? Not so quick! Living in smaller also means living with less. Less like in forget about your dream dishwashing machine that cleans the dirtiest of pans. Or your 7.1 channels home cinema. In other words, living in a tiny house means you need to change your spending and purchasing habits. That's already a challenge in itself for people that live in regular homes so imagine if you consider living in a quarter of that!
On the good side of things, it means you have more money to spend elsewhere. But is also means you free yourself from the burden that is mortgage and credit cards debts and so on. And that's another point in favour of this Tiny House movement. Freedom. And people tend to get romantic when they think about freeing themselves from responsibilities and liabilities.
If you've read up to this point, you're probably asking yourself why am I writing on this specific topic. And I can't blame you for wondering. Us & Coutumes products are designed for small apartments and condos, not for extremely tiny houses. I've said it often: we are not a brand that makes folding beds. Other companies design this specific type of furniture and they dot it well. Our vision is to provide you with furniture you want but can never find; entrance furniture, secondary furniture, functional and simple storage solutions that are compact. Ok Ikea might provide some of that but don't expect quality then! The truth is, if I'm writing about tiny houses, it's because I think living in so small really hits something inside of each of us. It might be the challenge of doing it for some, the discipline required for others.
For me, it is the meaning that, if somebody can organize his or her life into 100 to 400 square feet, what can we learn from that? How can we furnish our homes better? In tiny houses, everything must be thought of and adapted while proving useful for often more than one way to use it. And when I say furnish better, I'm not necessarily referring to a locally made, solid walnut table that would cost you 4000$ (not that's it not something desirable). I'm talking about choosing furniture and accessories that are an answer to real needs and that won't accumulate dust on a shelf. In other words, I'm talking about buying less, but buying better. And that has never been more the case than today when compared to the last 30 years. Think about it : everywhere around you, startups and people in general are getting together to try to re-establish quality in fabrication and materials. Food is getting healthier while being tastier. DIY has never been so popular and I wouldn't be surprise to see toasters repair businesses coming back in a few years. There's a sense that it might be the time to think about take care of our stuff, well made and wisely purchased stuff.
In cities, there's a tendency towards condensing urban planning to try to slow urban spread. We're not going towards bigger habitation units. In Montreal, a lot of cheaply made condos are built. As a result of a lack of government legislation towards architectural quality, a lot of those units that sell for more and more are being constructed everywhere. So it's not really surprising that some persons choose tiny, but better after all. Who knows, maybe more and more people will start to dream about their ideal house, a tiny house.
Speaking of an ideal tiny house, in part 2 of this post, I'll introduce the project of Atelier Praxis, the company of Josianne Pouliot, an interior designer. She's building, you guessed it, her dream tiny house! Read it here.
---